Goldback Info
(1)
---
GOLDBACK INFO
Did you know that each of our Pro Wholesale Membership Subscriptions comes with a FREE 1/10th oz silver round AND a FREE GOLDBACK??
BUT…. what exactly is a Goldback?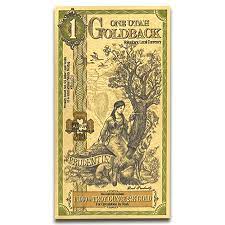 Goldbacks are a form of voluntary local currency whose intricate designs are crafted from 24-karat gold. That's right, the currency is made of actual gold! In a variety of stunning designs from Utah, Nevada, and New Hampshire, each Goldback has its own specific, labeled gold weight, and is considered to be the first voluntary, local currency that can double down as a collector's item, making them a unique fractional gold addition to any collection.
Each wafer-thin note is coated with a protective plastic cover so it can be circulated, exchanged, and used without the gold tearing. These goldback are made to be circulated as real money.
That said, even if you do not live in a state where these are currently accepted as currency, you can still collect these amazing gold notes! Each bill can be melted down for its precious metal content if its owner would rather have a solid gold piece.
Not only is each Goldback crafted in increments of 1/1000th of an ounce of pure gold (1 Aurum), but they are also fabulous examples of the engraver's art.
You can find these notes for sale at many precious metals dealers such as SD Bullion, GovMint, ModernCoinMart, JM bullion etc. BUT.. here at MintBuilder we offer these to our PRO members as a completely free monthly benefit of the membership! Yes that's correct, when you join on the Pro membership you are sent a 1 goldback completely free each and every month!
The 1 goldbacks sell in the market for around $7 each. Not a PRO member yet? No problem, we also offer these 1 goldbacks as well as increments of 5,10,25 and 50 in our MintBuilder shop!
Still No Luck ? We can help you
Create a ticket, we'll get back to you as soon as possible.
Submit a Ticket